Latest
Books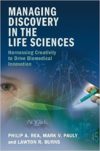 Managing Discovery in the Life Sciences: Harnessing Creativity to Drive Biomedical Innovation
By Philip A. Rea,‎ Mark V. Pauly and‎ Lawton R. Burns
In this book, distinguished scholars Philip A. Rea, Mark V. Pauly, and Lawton R. Burns explore the science and management behind marketable biomedical innovations. They look at how the science actually played out through the interplay of personalities, the cultures within and between academic and corporate entities, and the significance of serendipity not as a mysterious phenomenon but one intrinsic to the successes and failures of the experimental approach. With newly aggregated data and case studies, they consider the fundamental economic underpinnings of investor-driven discovery management, not as an obstacle or deficiency as its critics would contend or as something beyond reproach as some of its proponents might claim, but as the only means by which scientists and managers can navigate the unknowable to discover new products and decide how to sell them so as to maximize the likelihood of establishing a sustainable pipeline for still more marketable biomedical innovations.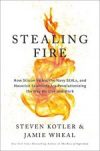 Stealing Fire
By Steven Kotler and Jamie Wheal
It's the biggest revolution you've never heard of, and it's hiding in plain sight. Over the past decade, Silicon Valley executives like Eric Schmidt and Elon Musk, Special Operators like the Navy SEALs and the Green Berets, and maverick scientists like Sasha Shulgin and Amy Cuddy have turned everything we thought we knew about high performance upside down. Instead of grit, better habits, or 10,000 hours, these trailblazers have found a surprising short cut. They're harnessing rare and controversial states of consciousness to solve critical challenges and outperform the competition.
New York Times bestselling author Steven Kotler and high performance expert Jamie Wheal spent four years investigating the leading edges of this revolution. Stealing Fire is the result of that investigation. It is a provocative examination of what's actually possible; a guidebook for anyone who wants to radically upgrade their life to make it richer, more productive, and more satisfying.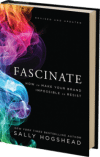 Fascinate: How to Make Your Brand Impossible to Resist
By Sally Hogshead
Why are some brands and people more captivating and memorable than others? In a distracted, overcrowded world, how do some leaders break through the noise to influence behavior, beliefs, and buying decisions? More persuasive than marketing, advertising, or any other form of communication, Fascination is the most powerful way to influence decision making.
With her internationally acclaimed book, FASCINATE, Sally Hogshead explores and explains the irresistible influence of fascination. This extensively revised and updated edition includes Sally's latest research on the science of fascination. Structured around the seven languages of fascination—power, passion, innovation, alarm, mystique, prestige, and alert—FASCINATE explores how anyone can use these triggers to make products, messages, services, and themselves more fascinating—and more successful.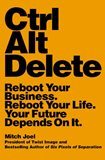 CTRL ALT Delete
By Mitch Joel
The transition of all industries into the fully-digital future leaves everybody caught in a middle ground – it's not heaven, it's not hell, and it's very confusing. Businesses and employees are not sure where things are headed or what they must do to survive and thrive. In short, this is a time of purgatory. In his new book, CTRL ALT Delete, Mitch Joel provides a roadmap for business and professional success through this purgatory. It explains the convergence of five movements that will change business forever, identifies seven triggers that will help individuals take advantage of those movements, and shows all readers how to make the necessary reboot – in effect, how to CTRL ALT Delete.
Baylor Scott & White Health's Quality Journey
Baylor Scott & White Health (BSWH) has formalized its commitment to quality with the adoption of the STEEEP framework supporting the Institute of Medicine's call for health care that is safe, timely, effective, efficient, equitable, and patient centered. Explore BSWH's journey, success strategies, and lessons learned in these four books.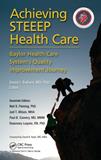 Achieving STEEEP Health Care
David J. Ballard, MD, PhD, MSPH, FACP, Editor
Associate Editors: Neil S. Fleming, Joel T. Allison, Paul B. Convery, Rosemary Luquire
Winner of a 2014 Shingo Research and Professional Publication Award!
Achieving STEEEP Health Care offers practical strategies and lessons in the areas of people, culture, and processes that have contributed to dramatic improvements in patient and operational outcomes. The book also discusses newer approaches to accountable care that strive to simultaneously improve the patient experience of care, improve population health, and reduce per capita costs of health care. (ISBN 9781466565371)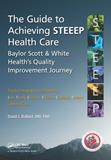 The Guide to Achieving STEEEP™ Health Care
By David J. Ballard, MD, PhD
This Shingo Prize-winning guide book is a companion to Achieving STEEEP Health Care. It presents practical approaches and tools, including sample workflows, forms, charters, and checklists, that healthcare delivery organizations can use to organize, lead, execute, and measure the impact of their own improvement efforts. (ISBN 9781482236811)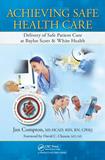 Achieving Safe Health Care
By Jan Compton
Winner of a 2016 Shingo Research and Professional Publication Award!
Achieving Safe Health Care provides a detailed overview of the Baylor Scott & White Health approach to the delivery of safe care, the leading aim of the STEEEP quality and patient safety framework. The book presents real-life examples, practical approaches, and tools for improving patient safety, structured around strategic efforts in categories of culture, processes, and technology. Maintaining a focus on human factors in patient safety and health care, the book explains the need for advanced analytics along with long-term learning and corporate resources. (ISBN 9781498732390)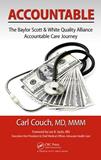 Accountable
By Carl Couch, MD, MMM, FAAFP
Baylor Scott & White Health has established and continues to develop an ACO called the Baylor Scott & White Quality Alliance (BSWQA) to improve the quality of care and decrease health care costs through clinical integration. Accountable: The Baylor Scott & White Quality Alliance Accountable Care Journey tells the story of the BSWQA and its clinical network and payers who are committed to delivering accountable, value-based patient care. It describes the need for ACOs in today's health care environment and details the framework and requirements needed to establish one. (ISBN 9781498743334)

Better & Faster: The Proven Path to Unstoppable Ideas
By Jeremy Gutsche
http://www.betterandfaster.com/
What great ideas are you missing that are so close within your grasp? In our world of chaos and change, what are you overlooking? If you knew the answer, you'd be a better innovator, better manager, and better investor. Better and Faster, a New York Times and Amazon.com #1 Bestseller, will make you BETTER by teaching you how to overcome evolutionary traps that block successful people from realizing their full potential. Then, it will make you FASTER by teaching you 6 Patterns of Opportunity — repeatable shortcuts that you can use to find better ideas, faster.

Web Analytics 2.0: The Art of Online Accountability & Science of Customer Centricity
By Avinash Kaushik
http://www.webanalytics20.com/book/
The Web, digital marketing, and advertising have been revolutionized in the last few years, yet the approach to using data has remained largely the same as a decade ago. In his second book, Avinash Kaushik presents a next-generation framework of web analytics that will dramatically enhance the ability of your organization to think smart and move fast. Avinash lays out specific strategies and execution models to evolve from simply leveraging clickstream tools to incorporating the insightful elixir of qualitative data, experimentation and testing, and competitive intelligence tools.

Web Analytics: An Hour A Day
By Avinash Kaushik
http://www.webanalyticshour.com/
Web Analytics: An Hour a Day is the ultimate resource for anyone needing a step-by-step, task-based guide to creating and maintaining a modern web analytics strategy and framework. Written by an in the trenches practitioner of web analytics, this bestselling book provides a unique insider's perspective of the challenges and opportunities of web analytics for everyone who touches the web within an organization. Web Analytics goes beyond concepts and definitions to provide a step-by-step guide to implementing a successful web analytics strategy.