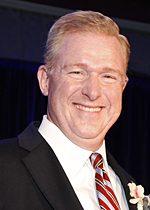 Paul Matsen
Chief Marketing & Communications Officer
Cleveland Clinic (Cleveland, OH)
Paul Matsen joined Cleveland Clinic in 2006. He is responsible for all marketing and communications programs at Cleveland Clinic including global development of the brand; marketing of all U.S. and international locations and digital marketing. Mr. Matsen also leads Cleveland Clinic's Corporate Communications department.
During Mr. Matsen's tenure, the Cleveland Clinic has grown to be one of the most recognized and respected healthcare brands in the world. Under his leadership, Cleveland Clinic has been an innovator in digital and content marketing including the industry-leading ClevelandClinic.org website, social media, mobile apps and search engine marketing programs.
Prior to joining Cleveland Clinic, Mr. Matsen was most recently the Chief Marketing Officer at Delta Airlines. He began his career in New York, working at a number of leading advertising agencies. He is a graduate of Rutgers University, NJ.