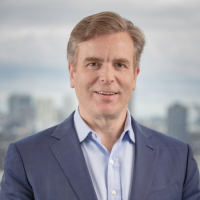 Rob Grant
EVP, Chief Strategy & Innovation Officer
Mercury Healthcare (formerly Healthgrades)
Rob Grant has more than 20 years of experience as a healthcare technology leader. In his role as EVP, Chief Strategy & Innovations Officer at Mercury Healthcare, Rob is accountable for the development of corporate and platform strategy as well as new business development functions.
Prior to joining Mercury Healthcare, Rob co-founded Evariant. Rob led the creation and evolution of many areas of the company. Rob helped pioneer and evangelize healthcare digital marketing campaigns, healthcare CRM, various uses of healthcare claims data, healthcare's 'system of engagement', and the use of marketing automation technology by healthcare marketers.
Rob holds a BS in Business Administration with a Major in Marketing from Appalachian State University. Rob lives in Connecticut with his wife and three children. In his spare time, he enjoys playing with his children, cycling, skiing, basketball, and golf.