2019 Healthcare Marketing Physician Strategies Summit
2019 Keynote Speakers
Those who attended the 2019 Summit benefited from the insights of 4 renowned keynote speakers.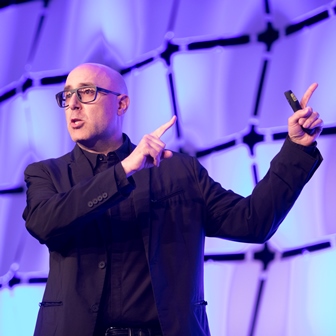 Disrupting Disruption: How Data and Technology Will Shape Your Future
Mitch Joel
Sponsored by Healthgrades
Tuesday, May 21 | 4:00–5:15p
Mitch Joel has been called "one of North America's leading visionaries" and the "Rock Star of Digital Marketing" by Strategy Magazine. He's recognized as one of the top 100 online marketers in the world, was awarded the highly prestigious Top 40 Under 40, and is a bestselling author. Brands like Google, Starbucks, Shopify, and GE call Mitch when they want to leverage technology to better connect with consumers. And today, new technologies like artificial intelligence, virtual reality, and voice—along with unprecedented access to data—are disrupting healthcare in a big way. Are you ready to disrupt disruption? Join Mitch to explore the opportunities, including the intersection of data, AI, and digital marketing.
Turn Marketing Data Into A DataStory
Nancy Duarte
Sponsored by Evariant
Wednesday, May 22 | 8:00–9:15a
Nancy Duarte has cracked the code on incorporating stories into business communications. One of the world's top communication experts and the author of five bestselling books, Nancy has been featured in Fortune, Forbes, Fast Company, Wired, The Wall Street Journal, The New York Times, LA Times, and on CNN. She has won several awards for communications, entrepreneurship, and her success as a female executive. Nancy's firm, Duarte, Inc., is the global leader behind some of the most influential visual messages in business and culture today. Join Nancy to learn how to tell a great data story—one that connects with customers, as well as your staff, and bonds them to your brand.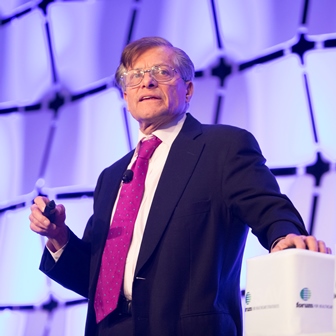 Taking the Lead on Health and Wellness
Michael Roizen, MD
Sponsored by Healthgrades
Wednesday, May 22 | Luncheon Speaker | 12:30 – 1:45p
With consumers, payers, and employers all expressing growing interest in health and wellness, it's a perfect time for healthcare organizations to set an example for others. Dr. Michael Roizen will share how the Cleveland Clinic is leading the way—improving employee health and saving millions in healthcare costs in the process. Dr. Roizen is the Chief Wellness Officer at the Cleveland Clinic, Chief Medical Consultant on The Dr. Oz Show, author of four #1 New York Times best-selling books, and originator of the popular RealAge.com website. Join him to learn why focusing on health is not just the right thing to do, but the smart thing to do!
The Loyalty Loop
Andrew Davis
Sponsored by Tea Leaves Health
Thursday, May 23 | 8:00-9:15a
Recognized as a "Jaw-Dropping Marketing Speaker," Andrew Davis is a mainstay on global marketing influencer lists. He is a bestselling author and internationally acclaimed keynote speaker. Before building and selling a thriving digital marketing agency, Andrew produced for NBC's Today Show, worked for The Muppets, and crafted documentary films and award-winning content for tiny start-ups and Fortune 500 brands. With his infectious enthusiasm, Andrew will have you thinking in new ways about brand, experience, and customer loyalty. Come hear the four simple secrets brilliant brands employ to define, differentiate, and deliver unique, memorable, and brand-able experiences.
Concurrent Session Speakers
The 2019 agenda also featured speakers from leading hospitals and health systems across the country.