Internal communications, when done right, tells a true and meaningful story about an organization's mission, vision, and direction, and ensures that employees understand how they contribute. This work requires more than simply pushing out information from higher-ups—good communication increases employee engagement. And engaged employees advocate for their organizations, and most importantly, provide better care.
Still, it's easier said than done. Most healthcare providers know they have work to do to improve internal communications. In fact, in a 2017 survey, when asked how they would rank their health system's internal communications program on a scale from 1 to 5, healthcare communications experts from more than 70 organizations across the country said, on average, 3.5.
That number lines up with results from hundreds of communications assessments and thousands of employee interviews as well. In other words, both employees and communicators, on average, give their health system's internal communications program a "C."
Hospitals can and should do better, or they risk losing their most valuable audience—their employees. Below are six practical ways hospital and health system leaders can take their internal communications efforts from average to outstanding.
1. Choose the Right Message—and No More
Before launching any extensive internal communications plan, executive leadership needs a central, unifying message that explains the organization's driving purpose, where it's going, and how it plans to get there. By creating the story that answers those questions, the communications team can then relay a compelling narrative that communicates, contextualizes, and energizes employees as their organization evolves.
2. Prioritize and Filter
Next comes the hard part—internal communications leaders must meticulously curate the information coming at them from all angles of the organization and only pass the most essential on to employees.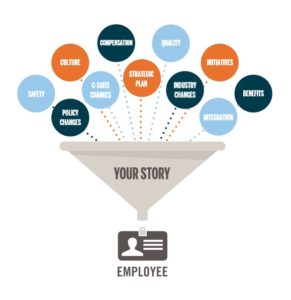 Employees need clear information, not more information. That means that communicators need airtight control over everything that goes through the funnel.
For example, communicators should guard the "all employees" email list with their lives. The sale at the gift shop shouldn't make the cut. In fact, very little should—only the most important content. This is tough to execute in practice. To do so, communicators must push back. Leadership needs to trust healthcare communications professionals to be fierce, competent curators and protectors of employees' bandwidth and time.
3. Choose the Right Messenger
It may seem obvious, but communicators should try to provide information the way employees prefer to hear it. And surveys consistently show that health system employees want to hear important information directly from their managers. They value the ability to make eye contact, read body language, and give feedback whenever possible.
For communicators, the challenge is to equip managers with the right talking points and tools to effectively speak with employees. Healthcare managers often come from clinical or medical backgrounds; they're usually not seasoned communicators. To fill that gap, communicators can provide targeted talking points; host manager communications training sessions; and clearly differentiate between crucial, important, and merely helpful information.
4. Become Content Creators
More than any tool or trick, the key to a successful healthcare internal communications strategy is generating quality content. This means that, in addition to being pros at the tactical part of their jobs—communicating quickly across a variety of channels—communications professionals need to devote time and effort to the creative part of their work. They need to find stories within their organizations about patients, employees, and healthcare trends. Then they must write these stories well and share them in ways and on platforms that will engage the intended audience.
5. Use the Right Tools and Tactics
When determining how to get information through to employees, there are a few best practices to keep in mind. First, it's important to approach mobile carefully. While it may be tempting to reach employees on their cell phones rather than relying on computers, no one has fully cracked the best way to use text messages for internal communications. There's no need to rush a mobile strategy unless it's carefully considered and piloted—otherwise it can feel invasive and backfire.
Second, it's crucial to refrain from overusing email. Email is an effective way to reach employees, but only when it's used correctly. Sending too many messages or emails that contain superfluous information essentially trains employees to expect junk.
Instead, great healthcare communicators are switching from pushing information out to creating a platform—usually their intranet—where employees opt in to information. The difference between health systems with an average intranet and those with an excellent one is staggering. Investing in a user-friendly intranet allows communicators to track click and open rates, which provides useful data about the stories employees actually read. It also can keep those stories from cluttering employees' inboxes, and employees appreciate that.
6. Create a Two-Way Dialogue
Health systems are so massive now that it's often impossible for the CEO to walk around and ask about everyone's families. But employees still crave a relationship with leadership.
Communicators, then, need to step in and build safe spaces for employees to deliver feedback. There are a number of smart ways to make this happen—everything from hosting CEO town halls and road shows to small, focus-group-style meetings that enable employees of all stripes to weigh in on planned communications campaigns. Most formats work well when they're designed to truly listen to employees, rather than talk at them.
Hospital and health system leaders who still have questions about the strength of their employee communications program could do one simple thing: Ask. A quick poll or thorough internal communications assessment can provide valuable insight. It could be that employees prefer certain forms of communications over others. It could be that the majority of internal communications emails go straight to the void.
One thing is certain: every healthcare organization has unique internal communications needs. Leaders need to know what those are. Employees can help carry their institutions through this tumultuous time in healthcare if they understand where the organization is going and how they, personally, can contribute. It's up to executive and communications leaders to get that message through.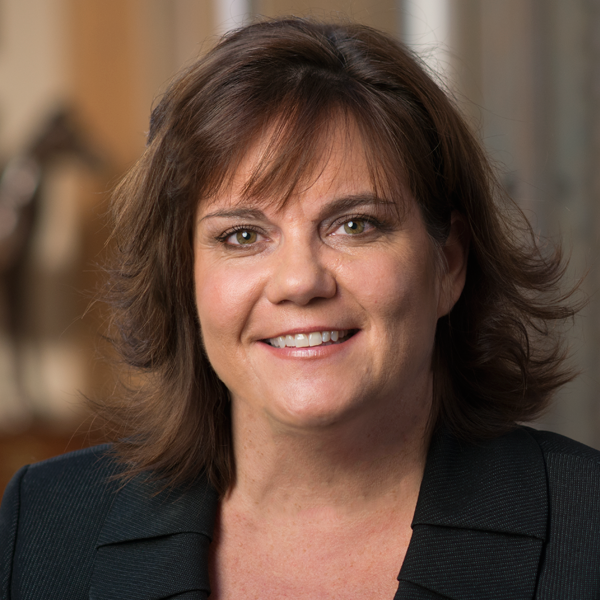 Kim Fox has spent her entire 25+ year career helping providers use the power of communications to make healthcare better. She is a  partner and national practice leader at healthcare strategic communications firm, Jarrard Phillips Cate & Hancock .