Wow. Just wow.
The #HMPS18 hashtag generated more than 11.9 million impressions over the course of the Summit. With more than 3,420 tweets and 397 participants, the 800+ attendees at last week's Healthcare Marketing & Physician Strategies Summit were collectively tweeting about 47 times an hour.
Thanks for making the Summit such a Twitter success! Here's a look at a few tweets that caught our eye:
Tell better stories
Say it with #stories! #Brands are elevating conversations, yet #healthcare has all the credibility. Connect with people with authenticity…your perfectly, imperfect voice! @rontite #HMPS18
Know what your CEO wants
If you don't know your CEO's goals and how they translate into what you do, you may stay busy, but you won't be effective – Trish Cluff at #HMPS18
Be a hybrid marketer
Bonnie Nicholls: @hearyewriting
The modern marketer is part artist, part scientist. #HMPS18
It's not all about measurement
Paul Griffiths: @paul_griffiths
Kindness improves patient experience as well as measurable outcomes.
Does your brand have an integrity gap? Fix it
A huge challenge for brands is the integrity gap when they don't live up to their hype. They act in a way that contradicts the brand messaging. @rontite #hmps18
Invest in tech
Marketing of the future–you don't need bigger budgets and more people. You need the technology to make smarter decisions. #HMPS18
Improve your patient surveys
If they liked their visit before the 35 question survey, they're certainly not going to like it when they finally finish the survey. #HMPS18
Take a deep breath
Tiffany Castor: @TiffanyCastor4
"Listen to the tweet of your heartbeat, status update from your body and chat request coming from your brain." Friend yourself @GopiKallayil #hmps18
And, here are the 5 top tweets shared by the Forum: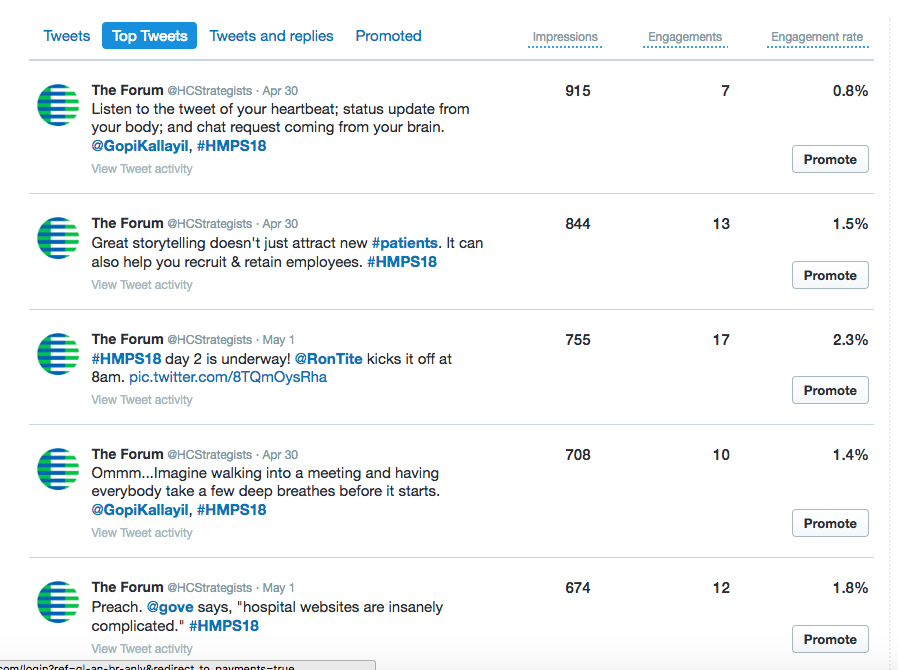 Thanks to all for tweeting! Continue to follow the Forum @HCStrategists for updates on the latest healthcare marketing and physician relations success strategies, as well as upcoming Forum webinars, newsletters, and #HMPS19.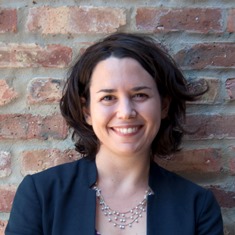 Jessica Levco is a contributing writer for Healthcare Strategy Alert and the Forum for Healthcare Strategists blog.