By John Simpson and Ben Texter
As a healthcare marketer, you know the importance of increasing volume for your service lines and bringing new patients into your facilities. But did you realize that those same patients are also your most qualified prospects to become philanthropic donors? By integrating fundraising efforts with customer communications, marketers can play an important role in the philanthropic process.
Your healthcare system has hundreds, even thousands, of potential donors walking through your doors every single day. And unlike environmental groups, political campaigns, or research organizations, you don't need to spend significant dollars on advertising to attract brand new philanthropic audiences. You simply need to find ways to effectively integrate your fundraising efforts with your customer communications to create a better experience for patient-donors as well as improve your organization's bottom line.
Following are five proven ways to integrate marketing and fundraising efforts.
1. Goal setting and planning: Get everyone on the same journey. As a marketing executive, you are ultimately accountable for how your organization communicates with customers throughout their entire experience. But if departments across the organization do not align their communications, you risk a disjointed and confusing experience, as patients may be bombarded with philanthropy, marketing, billing, and clinical messages all at once.
So, when you approach goal setting and planning, view things through the eyes of your customer first, and then find ways to align organizational goals to meet customers' needs. Here are a few tips:
Bring stakeholders from marketing, philanthropy, IT, billing, and patient experience together in a room to map out all of the touch points and truly understand what the experience is like for the patient-donor
Gain consensus so everyone is working towards the same end goal across campaigns and initiatives
Develop key performance indicators for each step to measure success and learn along the way
Ultimately, your communications should work toward building a long-term relationship with your customers. You want to turn first-time patients into repeat customers, donors, and brand advocates.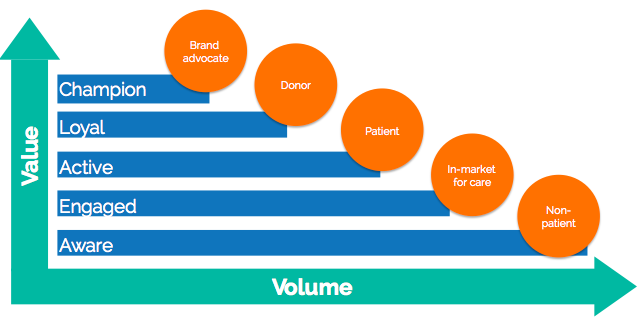 At Scripps Health (San Diego, CA), for instance, the planning phase allowed stakeholders to identify a number of areas where the cadence and structure of post-care communications could be improved. One specific example: sending a "Thank You" card to the patient from the Foundation immediately after discharge, so the first communication is a thank you instead of a solicitation—a simple way to start the relationship off on the right foot.
2. Introduce the Foundation early on. Many nonprofit health systems take it for granted that patients know they are nonprofit, but they may not. And even if they do, you need to make a clear case for the role of philanthropy and create a value proposition for how donors can make a difference.
So it's important to include fundraising messaging early in the patient journey. While you certainly don't want to solicit someone before they've become a patient, you can find opportunities to communicate in-facility about the role and importance of philanthropy. For example, Scripps includes Foundation messaging as a menu insert in patient rooms, and Lakeshore Foundation (Birmingham, AL) has information about philanthropy in new member packets.
3. Provide tangible ways to give. Major donors don't start with a six-figure first-time gift. So it's important to provide simple and easy ways for patients to demonstrate their initial support, and then follow-up with solicitations. For example:
Make it easy for patients to take action: As part of its grateful patient program (branded as "Honor Your Caregiver"), Scripps asks patients to share a story about their experience. Taking a cue from fundraising gift catalogs, the Scripps team then follows up with tangible, low-level giving opportunities, like $100 to recognize your caregiver on a virtual honor roll or $250 to send your caregiver a custom lapel pin.
Provide targeted, relevant opportunities to give: Use the data and information you have about patients to help convert them to donors. Women who have recently given birth might be likely to support expansion in your labor and delivery services, for example, and orthopedic patients will be interested in new technology or research that's advancing clinical care.
4. Share your content. A key benefit of integrated patient and donor marketing efforts is that you can find multiple uses for content and assets across initiatives, so you're consistent in your messaging and efficient with your resources. A story about how a caring delivery nurse inspired a donor to give can easily be repurposed to drive volume for women's services. Conversely, a patient's story about how her life was saved because of an innovative procedure can inspire a donor to give and help save even more lives.
These same types of content can also be used for employee recognition and engagement. Stories about exceptional patient experiences or gifts made in honor of employees should be shared throughout the organization via internal channels.
It's the new triple aim: content to engage your patients, donors, and employees.
5. If you can't measure it, don't do it. One of the best (and scariest!) parts about fundraising is that it is immediately measurable—you either raise money or you don't. Based on results, you can even apply successful direct response best practices from your fundraising efforts to your marketing campaigns to attract and convert leads.
You won't succeed if you can't measure progress. You should have specific metrics with baselines to track against and gauge performance. Additionally:
Use available data to segment audiences based on their interests. For example, certain patient-donors have an affinity for specific service lines like cancer care, while others will care about innovation or giving back to the community.
Along with quantitative data like donation rates and revenue, you can send a short survey to your patient/donors to ask about their interests.
Then, optimize and adjust the channels and messages you use based on what your supporters respond to.
Coordinating and integrating marketing, communications, and fundraising efforts across a health system is no small task—it takes time, effort, and focus. These five tips offer a starting point. They've helped other organizations collect thousands of stories, increase new donor pipelines, and double online fundraising revenue. By applying them in your organization, you too can have success transforming grateful patients and their families into donors, as well as loyal advocates.
Want to learn more? Attend the May 23 session, Integrating Marketing and Philanthropy, at the Healthcare Marketing & Physician Strategies Summit!
---
This article was written by John Simpson and Ben Texter, Co-Founders of Digital Health Strategies. Digital Health Strategies designs and builds digital engagement programs that help healthcare organizations create more valuable relationships with their customers, patients and employees.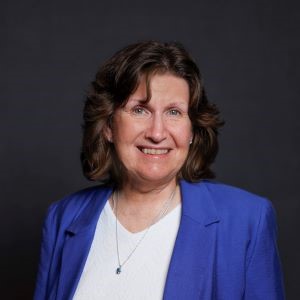 Debbie Reczynski is Director of Communications and Program Development for the Forum for Healthcare Strategists.