Hospital and clinic service line growth goals are often identified in silos, with marketing and physician relations working in different lanes. This was the case at the University of Utah Health, until subject matter experts in the department of surgery came together to challenge the status quo, let data drive decisions, and define—and greatly exceed—goals for each service line.
In this preview of their HMPS session, you'll learn how these change agents—including Marketing Manager Courtney Lauer, Physician Relations Consultant Christina Choate, and Manager of Network Development Operations Erin Heath—are collaborating to grow volume while creating a better experience for patients and providers.
Q. Why is collaboration to grow service lines an important topic for today's healthcare marketing and physician relations professionals?
Erin Heath: Within our department of surgery, we represent nine different divisions and regularly meet with leadership with those divisions. Like most groups working in silos, we found that we were all asking very similar questions to support our respective areas. Instead of having to meet with separate teams to ask similar questions, we decided to be more efficient with our resources and come together in one common meeting. There was so much crossover between the different teams, and we all needed to be at the table as subject matter experts.
Christina Choate: Instead of reinventing the wheel and having multiple meetings on the same topic, we brought the teams together to identify marketing priorities for service lines, outreach priorities, growth objectives … all those questions identified with the stakeholders involved. Our presentation is going to show that bringing people together isn't as much of a mess as you might think going into it, and you can grow service lines by getting everyone together. If we're all in the same room and speaking the same language, a rising tide lifts all boats.
Courtney Lauer: Our positions are somewhat unique to the institution in that we all work for the department of surgery. One of the benefits of collaboration is that we can see something going on in plastic surgery and apply it then to cardiothoracic surgery. You can take those key learnings across the department, and it benefits other service lines across the board.
Q. Can you share 1-2 examples of how University of Utah Health is applying a collaborative approach to service line growth?
Heath: One that stands out involves our comprehensive weight management team and the goal we were given to grow the service line by 10%. In collaboration with our clinical marketing team, we started implementing digital ads, sharing program information with referring providers, and conducting outreach visits for new faculty members who had joined the team.
We quickly learned that we could not keep up with the floodgates of patients who were trying to come into the program. While we had the right vision and tactics for marketing and outreach, we did not correspond with that particular group to make sure that volume was sustainable and that they had the resources and operational structure to support it. We had to pull back on the marketing and physician relations and outreach efforts, look at operational structures, share feedback from referring physicians, and then work with the group's leadership to make changes. As a result of those efforts, we've seen tremendous growth. In fact, we ended fiscal year 2021 (through June 30) with a 40% increase within that service line.
Choate: That's even more impactful when you consider it happened in a pandemic year—and it would not have been possible without a lot of great collaboration. Without working together to solve problems, we would have frustrated providers and patients by not hearing their concerns. This collaborative approach allows us to grow service lines and at the same time look back at how to make it the best experience possible for our providers and patients.
Lauer: When you start to look at how you grow, it's not just about the different marketing and physician relations strategies—you have to look at the operational aspect too. By bringing these groups together to talk about it, you're able to find solutions through your marketing and referring physician pathways and optimize everything along the way. When you work in silos, you don't get that benefit of sharing information and improving your processes. By creating and fostering that collaborative environment, that's where you see the benefit and achieve growth.
Q. What can attendees expect to take away from this session and implement within their own organizations?
Lauer: This process did not happen overnight. It takes time, and it can be daunting to try and take learnings from conferences and ask, "Where do I start?" We want to stress that no matter how you start your process, there are clear steps to success.
Heath: We will be sharing the steps we took in a very difficult time during the pandemic and with new roles. It was baptism by fire for each of us. One of the biggest things we want to touch on is that the collaboration, culture, and environment we had in building this trust with the areas we supported was where we found success. Had we not built that foundation, we would not have seen the results we did.
Choate: Our session aims to bring everyone together. Whether your role involves marketing, physician relations, or strategy, we all rely on each other to be able to do our jobs well. We hope this session is seen as a place where we can all come together and figure out how to work well together.
Get more actionable insights at HMPS21
Learn more about this critical topic and meet the University of Utah Health team at this year's Healthcare Marketing & Physician Strategies Summit (HMPS21)! Register here. 
This post was developed in partnership with True North Custom, Media Sponsor for HMPS21.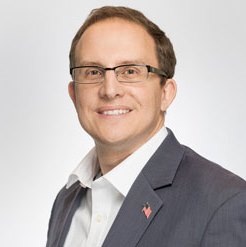 Jason Skinner is director of marketing at University Surgical Associates, one of the largest multi-specialty surgical groups in the southeast. He has 20 years of experience in strategic healthcare marketing and communications, having previously served as CMO at True North Custom and in the corporate marketing department at Encompass Health. Jason also serves on the board for the East Tennessee chapter of the American College of Healthcare Executives.