Healthcare leaders are faced with a nearly endless stream of conferences, publications, and consultant advice exhorting them to transform their business models and customer service experiences. Often, the flood of transformation ideas is overwhelming. Leaders frequently struggle to reconcile the idea of disruption with the prudent management of mature business lines that carry high fixed costs and are labor intensive and actively regulated.
Yet, it is critical that health system leaders navigate this tension between defending current advantage and disrupting it with something different and new. That effort starts with understanding the basic building blocks of change and having guidance on how others have responded to competitive disruption with new business, operating, and service experience models of their own.
Building Blocks of Change
Three major technology forces underpin the transformation of how health systems deliver care and compete in the marketplace. They are:
Development of Clinical Decision Support (CDS) applications that consume large data sets to predict risks, diagnose disease and route people into the right care, at the right place at the right time
Development of Application Program Interfaces (API) that allow multiple programs to talk to one another and open the door to interoperability and seamless, guided care experiences
Deployment of Asynchronous Clinical Applications that shift control of the terms of the care encounter from the provider to the customer, and enable large scale gains in efficiency over synchronous care processes
These forces enable a number of customer experience and business performance innovations. Following are explanations of these transformative ideas along with real-life examples of how they are being used to disrupt the health system business model.
AI-Assisted Clinical Decision Support
The most high-profile, high-ceiling agent of change impacting healthcare is clinical decision support (CDS), leveraging artificial intelligence (AI) engines. At the core, CDS combines massive data sets with "learning algorithms" that produce greater output sensitivity and specificity as they consume more data. AI allows for unprecedented decision-making speed and accurate insights into diagnostics, care processes, and personalized treatment plans. Critically, it allows for not only better outcomes, but for the automation of labor-intensive parts of the diagnostic process.
The healthcare AI segment is projected for 40% compounded annual growth rates (CAGR) between now and 2024. Much of that growth will impact imaging, diagnostics, applications to personalize care, research, and genomics.
Current Application
When thinking about CDS applications, it is critical to focus on two use cases: 1) enhancements to human clinician decision-making and performance and 2) replacing human interventions on lower-acuity but still critical tasks.
In terms of enhancing the performance of human clinicians, for example, CDS algorithms can consume vast amounts of data to create accurate preoperative insights and perioperative guidance for surgeons. This enables more precise surgical procedures, with shorter recovery times and fewer complications. Used in this way, CDS is very powerful in terms of quality of care experiences, health outcomes, and total costs.
In terms of extending human clinicians, clinical AI tools are also being used as virtual population managers to predict the progression of diseases and intervene with care plans or timely, advanced interventions. There is a great deal of activity, for example, in the field related to management of complex, progressive conditions like congestive heart failure. Health systems are using clinical decision support software to monitor, identify, and prioritize interventions with heart failure patients who have the highest risk of complications, as Table 1 illustrates.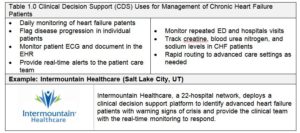 Application Program Interfaces
If AI is the more high-profile and high-ceiling agent of change, the use of Application Program Interfaces (APIs) might be the most impactful of the current trio of forces reshaping healthcare service experiences.
An API is a program—computer code—that enables unrelated programs to communicate with one another. It is essentially a bridge between two applications that allows them to pass data back and forth, regardless of how each application was originally designed.
The implications of having API bridges between different programs are significant in terms of combining the outputs of one application with the functionality of another to deliver an entirely new set of features to the ultimate consumer end-user.
A commonly understood use of API is in travel. For example, third-party travel planning sites like Expedia or Kayak don't generate data on their own to deliver comparisons of flight prices from 10 or 12 different airlines. They simply use the API provided by each individual airline to plug into the flight scheduling software for each company and pull information into a single view for the end-user.
Current Application
In healthcare, applications are emerging that consume patient-specific health data from multiple sites, which can include EHR data, activity or calorie tracking applications, and inputs from Bluetooth-enabled exercise equipment and body sensors. This diverse pool of user-specific health data can support analytics, diagnostic tools, and care plan development and management. All of that can help healthy people stay well, manage the progression of their chronic disease, and search for and purchase services to fill gaps in care from their mobile phones or computers. Table 2 provides an example.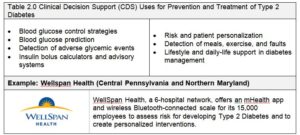 Currently, CDS applications have the greatest impact on complex in-hospital decision making and acute care processes. In contrast, APIs are having a more direct impact on patient care experiences because they can link multiple consumer-directed apps and devices into a seamless suite of tools that shape care and customer service experiences.
Virtual Asynchronous Care Applications
Historically, healthcare has required a patient and a provider, both in the same location at the same time. While the imperative to have both face time with providers and facilities where they can meet has largely driven healthcare operations, neither is an absolute determinant of care quality or outcomes.
The emergence of virtual asynchronous applications is changing the "face time and facilities" equation, enabling patients to start care without a provider present, and using machine-driven CDS and API-connected applications to allow asynchronous capture of presenting symptoms, diagnostics, and even development of treatment plans in a "store and forward" model.
It is important to note that this innovation is not a matter of applying video to an existing clinical workflow or business model; video chats are still largely a synchronous encounter. And, it is the synchronous nature of the care that drives complexity and cost of getting patients and providers together if not in the same place, at least at the same time in a video chat.
Many other industries have been reshaped by asynchronous customer service engagement, including banking (you can take a picture of a check after the bank is closed and deposit it into your account from a cell phone, mortgage applications (Rocket Mortgage), and higher education (online courses with dissemination of coursework and submittal of student responses happening with a lag).
Current Application
Table 3.0 outlines applications for virtual asynchronous applications in healthcare.


Competitive Counterpunching
AI-assisted clinical decision support, APIs, and virtual asynchronous applications are all being used at scale in the U.S. healthcare market. In some instances, they stand alone; in many, they are combined to create a new value proposition and distinctive customer service experiences.
Hospitals and physicians must understand these innovation building blocks and their impact on how care is delivered and how health systems compete. The number of proprietary, niche for-profit firms bringing new products to market based on these innovations continues to grow, threatening to disintermediate health systems from their patients, especially in terms of primary care and population health programs.
Organizations such as Intermountain Healthcare, WellSpan, and Memorial Health System offer compelling case studies for learning how to leverage these building blocks to counter these new market entrants. Additionally, these use-cases provide insight into how best to satisfy changing consumer purchase preferences. At some point in the near future, AI engines, APIs, and virtual asynchronous apps will not be "nice-to-have" drivers of change but "must-have" components of a competitive market offering.
Want to learn more? Attend the Healthcare Marketing & Physician Strategies Summit, May 21-23, 2019, where Michael Eaton will be speaking with Jeff Gross from Wellforce and Drew Palin, MD, from Intellivisit.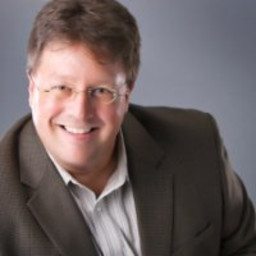 Michael Eaton is Senior Vice President at BVK/Brand+Lever. Mike builds valuable companies that deliver distinctive service experiences, social impact and strong shareholder returns. He helps clients see customer needs others cannot see or will not address, and execute business and operating strategies to build strong brands and generate market share growth.