For healthcare organizations, email can be a valuable tool for population health management efforts. But how do you ensure that your emails are getting read?
That's a question that Murray Friedman, digital marketing director at Aurora Health Care (which recently became Advocate Aurora Health), takes seriously. As Aurora has introduced email campaigns for population health efforts, Friedman uses a mix of data, A/B testing, and brainstorming about calls to action (CTAs) to increase the chances that audiences will open, read, and act on those emails.
Email Supports Population Health
Aurora began testing email to supplement direct mail for population health campaigns in the fourth quarter of 2016, and continued in 2017 and beyond. Email campaigns focused on three key areas:
Breast Health/Mammography Screening
Reactivating Primary Care
Same-day Care Options/Reducing Avoidable Emergency Costs
Based on Aurora's experiences with these campaigns, Friedman offers a few pointers on how to make sure patients are reading the message:
• Target your audience. "Population health is all about reducing cost of care, improving quality of care, and doing what makes sense for the patient," Friedman says. When you send out communications, you have to make sure you're targeting the right group relative to the goal you're trying to achieve. That's a basic marketing principle that applies to any campaign, and the narrower and the more specific you can be—the better. "Saying we're targeting women over 21 is not targeting," adds Friedman.
• Your subject line matters. "We really pay attention to our open rate," Friedman says. "If patients aren't opening up our emails, how will they know what we're trying to share with them?" To arrive at an effective subject line, Friedman's team conducts A/B testing with a subset of the target audience to see which of two potential subject lines generates the best response. For example, for the breast health campaign—the goal of which was to encourage women aged 50-75 who hadn't had a mammogram in the past 24 months to get one—two subject lines were tested, with the following results:
3 Surprising facts about breast cancer – 23.6 percent open rate; 1.8 percent click-through
Mammograms: Convenient. Preventative. Life-saving. – 31.3 percent open rate; 3.7 percent click-through
Given these results, the second subject line was used for a mailing to 1,700 women. Ultimately, 35.6 percent of those women came in for a mammogram, a 5.6 percent increase relative to the proportion who came in from a control group that received no communications.
• Look at real-time data. Friedman says that within an hour of sending out an email, he'll know if it's effective or not. "Within an hour, we get 40 percent of the opens and clicks," he says. "So we can extrapolate from there and determine the overall response we can expect."
• Put your personal feelings aside. Friedman notes that for some of Aurora's campaigns, he was convinced one subject line would do better than another, but the data proved him wrong. "No matter what your opinion is, you might not be right, so that's why we test and let the data inform our conclusions," he adds.
• Be visual. Friedman's team launched a three-part email series on how to reduce avoidable emergency room (ER) visits. Because there's an extensive amount of information to communicate on this topic, the team created a handy chart that showed the differences between an e-visit, an Aurora Walgreens visit, primary care, urgent care, and ER visits (see figure below). The chart compared costs and hours and included a CTA about scheduling each visit.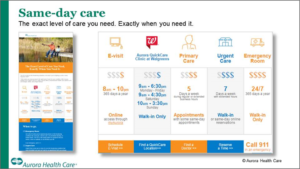 "The response to this campaign, which targeted 35,000 households, was surprisingly positive," says Friedman. Although the campaign will continue to be evaluated, initial results comparing avoidable ER visits six months pre- and post-email showed a 16 percent drop in such visits among the group that received the email series.
Looking Ahead
The results Aurora has generated with its population health-focused campaigns indicate that effective communications can indeed influence behavior change. "The goal is to move patients to the next step," says Friedman. "To do that, we need to understand what motivates them, what doesn't, and what will help overcome barriers that stand in the way of people getting the care they need. As marketers, we have the background and skills to do that, and by working with clinical and operational teams, we can be a contributing force in advancing population health."
Want to learn more? Exclusive benefit for Forum Members: Listen to Murray Friedman's session from the 23rd Annual Healthcare Marketing & Physician Strategies Summit.
---
This article was written by Jessica Levco, contributing writer for Healthcare Strategy Alert, and Debbie Reczynski, editor of Healthcare Strategy Alert and Director of Publications and Program Development for the Forum for Healthcare Strategists. For more information, contact dreczynski@healthcarestrategy.com.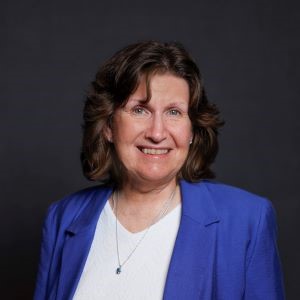 Debbie Reczynski is Director of Communications and Program Development for the Forum for Healthcare Strategists.