"Opening Day" is up to interpretation this week in the new COVID-19 sports world, where bubble playoffs, in-season tournaments, and partial schedules have the NHL, NBA, MLS, and MLB colliding, and the NCAA and NFL figuring out how they can play with or without fans.
Desperate to get their product on the field, and more importantly on TV, the leagues are getting creative to take care of broadcast and marketing partners.
New TV-visible virtual signs and digital/socia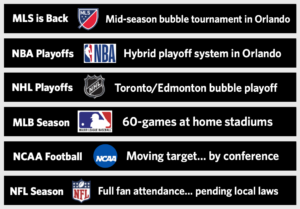 l programs are being pitched to sponsors to help offset contracted assets. And these "make goods" are relying on strong TV ratings to deliver value with pitcher's mound logos, tarped outfield signs, logos on uniformsleeves, and more exposure added to the asset mix.
To help their teams sell-in make good value to sponsors, the leagues have hired their own sports media value agencies to put a dollar value on impressions. Healthcare systems are working through their own valuations of these make good assets, in addition to placing a value on the medical services provided by their doctors outside of the medical services agreement, to ensure the team has a safe path to return.
What Determines Value?
Home and away TV ratings, including national news and viewership numbers, plus national digital and social coverage are among the impressions replacing the value of fan engagement in the stadiums—but national impressions may not be a great trade for locally focused healthcare providers.
According to Haynes Henderson, Senior Vice President & GM of MarketCast (formerly Turnkey Intelligence), "The factors for evaluating value to local healthcare providers is not a simple media equivalency exercise. Partnering with the healthcare experts at Bendigo, we have found traditional sports media valuations have been greatly overvalued for healthcare systems. Local objectives, metrics, and goals for an individual system need to be considered when developing the measurement plan for the partnership."
In a time of crisis, brands are often defined by the news they can't control, and others step forward to define themselves and take a leadership role when their community looks to them for answers. The challenge for healthcare systems to create relevant messaging to their audiences can be daunting, but sports team partn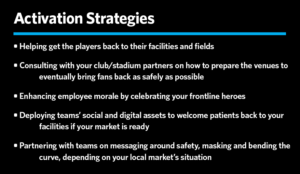 ers are in a unique position to advocate for their healthcare partners, especially with digital assets that continue to attract huge audiences and engage them with meaningful content around healthcare during COVID-19. Now that teams are getting back on the field, sports can be a critical way to transfer trust that fans have for their teams to the healthcare providers that support the community during the crisis.
As systems try to put a value to the assets they are being pitched, strategy becomes an important part of the negotiations to ensure they receive value well beyond traditional media value. Is your system telling stories beyond branding? In an environment of furloughs and patients' concerns about safety, there are a lot of stories to share through your sports partnership activations.
Case Study: Seattle Mariners and CHI Franciscan
The Seattle Mariners and CHI Franciscan enjoy a longstanding partnership and have been creative in exchanging contracted assets for new, relevant, and valuable assets throughout the crisis.
Efforts included inspiring fans to donate PPE at CHI Franciscan locations, and honoring their "Health Care Heroes" with invitations to introduce the Mariners #1 MLB draft pick on national TV and to introduce the starting line-ups of each game on Mariners Radio. Recognition from the team to the front-line staff will include a new TV-visible signage package for the shortened season (see figure at top).
The team, agencies, radio station, and hospital leadership worked together to determine value of the make goods and will track ratings during the season. New opportunities will surely become available and be evaluated on a case-by-case basis.
The team and healthcare system are taking an open and transparent approach to evaluating asset value throughout the season, ascribing anticipated asset values up front, with the ability to re-evaluate at the end of the season if any of the new assets underdeliver. Unavailable assets that can't be exchanged and make good assets that underdeliver can be negotiated into the 2021 season.
Designing Your Own Game Plan
How your system negotiates and values its make goods depends on your relationship with the team, the length of your agreement, the assets in your contract, and the strategy for your system over the next few months during the pandemic.
"Healthcare X Sports" is really about partnership and elevating activation beyond buying impressions, to find more innovative ways to keep the team and your community healthy. During times of crisis, having a partnership is more important than ever, so consider how your sports partners can advocate for your brand when it's difficult to market your traditional products and services.
---
Learn more! Hear how Emory Healthcare and NYU Langone Health are evolving their sports partnerships at the Healthcare Marketing & Physician Strategies Virtual Summit, August 18-20. Register here.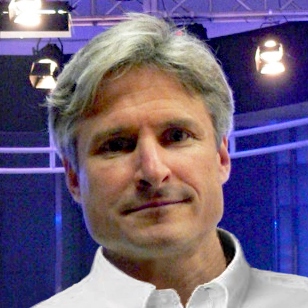 Jeff Sofka is CEO of Bendigo, a marketing agency focusing on the convergence of Healthcare, Sports & Corporate Partnerships. Bendigo helps leading healthcare systems navigate the complex world of marketing partnerships, including strategy, evaluation, negotiation, activation, media, research, and facilities development.