The marketing team at OhioHealth is leaning into a consumer-centric healthcare model. In this conversation with Senior Vice President and Chief Marketing and Communications Officer Sue Jablonski and Manager of Digital Solutions Venessa Heilman, you'll get a glimpse into their journey and ideas to inspire your post-pandemic marketing plan.
Q. Why is user-centered planning and design an important topic for today's healthcare marketing and communication professionals?
Jablonski: You'd have to be living in a cave not to know that the consumer is king, queen, and everything in between. Healthcare has been slow to accept that fact let alone meet the challenge. Our competitors are no longer just the health systems down the street, there are disruptors in every corner of our world. If we don't wake up and understand we must deliver more and better healthcare options, we will become dinosaurs.
Heilman: There are growing expectations around convenience, personalization, and transparency in healthcare—and we're not there yet. In this environment where I can get a loan in three minutes and try on glasses without ever leaving home, we're starting to see healthcare consumers expecting the same level of personalization around lifestyles and socioeconomic factors. In fact, a recent study found that over one-third don't engage with healthcare because they can't find a physician. That tells us how far behind we are.
Q: Can you share some examples of how OhioHealth is applying user-centered planning and design to impact the communities served?
Heilman: Our customers have been asking for virtual health for a long time, and now adoption is in hyperdrive due to COVID. It has opened so many doors. Before, if an elderly female patient had mobility problems, it would take three caregivers and four hours to get her to a 15-minute appointment. We had people with heart transplants who couldn't come in.
Along with physical limitations, there are socioeconomic limitations, like transportation, that virtual care overcomes for patients in less-served areas. There's also the benefit to referring physicians as virtual referrals can happen in minutes. COVID was a catalyst. The plan was to roll it out over the next three years; we did it in six weeks. If we had been listening to our patients, we would have had it much earlier.
We're bringing the joy back in healthcare, breaking down barriers, letting people start to collaborate in their own care.
Q: What can attendees expect to take away from this session and implement within their own organizations?
Jablonski: What they won't get is a session filled with stats and figures and numbers. Ours is about telling the story. As we've tackled this challenge, it's been inside/out and outside/in and we're addressing all areas of care—from sickness and wellness to inpatient and outpatient service lines. We've got a plot and characters: providers, the marketing team, and the organization. If people want to know about our story and the impact of this user-centered approach, they should join us at HMPS.
Get more actionable insights at HMPS21!
Learn more about this critical topic and meet the OhioHealth marketing team at this year's Healthcare Marketing & Physician Strategies Summit (HMPS21). Register here.
This post was developed in partnership with True North Custom, Media Sponsor for HMPS21.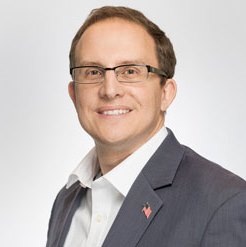 Jason Skinner is director of marketing at University Surgical Associates, one of the largest multi-specialty surgical groups in the southeast. He has 20 years of experience in strategic healthcare marketing and communications, having previously served as CMO at True North Custom and in the corporate marketing department at Encompass Health. Jason also serves on the board for the East Tennessee chapter of the American College of Healthcare Executives.