Designing and delivering a unique and authentic customer/patient experience should not just develop by happenstance. Marketers have the important role of making sure patient experience aligns with the organization's brand and value proposition. Following are seven essential elements for achieving exceptional patient experience, with the brand as the foundation.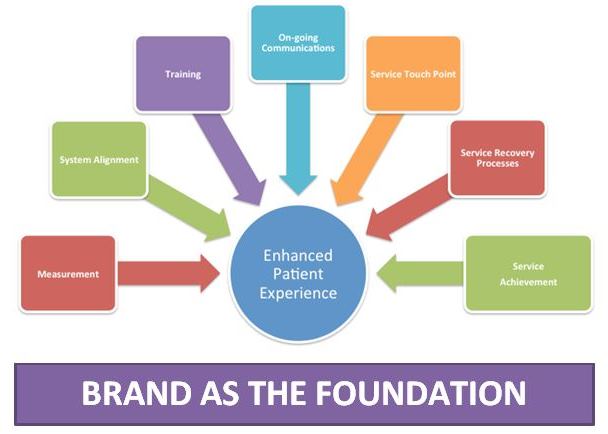 1. Measurement: To effectively track how well your organization is meeting patients' needs and delivering the promised experience, a set of metrics and timeframes should be established and agreed to by key stakeholders. Take baseline measures prior to implementation of any improvement activities and use them to set targets. Then, implement tactical initiatives focused on improvements that will enhance the experience and therefore demonstrate momentum in the metrics.
2. System Alignment: Establish behavioral expectations and incorporate them into job descriptions and assessments of organizational and job performance to ensure that everyone is accountable for customer experience. Designing systems to recognize and reward high-performing groups and individuals for their contributions to service enhancement will further strengthen accountability.
3. Training: Once metrics and behaviors have been identified, orient all employees to new expectations so they understand and embrace their roles as customer service champions. Training should cover behavioral expectations, skill building exercises, orientation to the report tool, and individual accountability.
4. Ongoing Communication: When initial training is complete, continued reinforcement of behaviors is essential to long-term success. The frequency of this reinforcement is dependent on the established communication channels and the organization's culture. Develop performance reports and deliver them on a regular basis.
5. Service Touch Points/Micro-Moments: Key patient interactions occur within and along the care continuum. Map the patient journey and where these touch points occur to identify patient expectations at each touch point. Then, design patient support and marketing materials, processes, and systems to assist in delivering on these expectations.
6. Service Recovery: If a process, system, or patient expectation fails, it is imperative that an adequate service recovery process be in place. Empower employees to implement service recovery at the point of dissonance in order to enhance patient experience. Failures should also be documented so that trends can be identified and adaptations can occur to enhance processes.
7. Service Achievement: Outline the patient's experience to identify simple opportunities to create WOW occurrences at key touch points. An initial approach would be to identify at least one WOW opportunity within the patient experience.
The Bottom Line
In an era of increased consumerism—and one where patients evaluate the quality of their clinical care based on their service experience—hospitals and health systems need to ask, "What would I do if my business depended solely on the service experience?" For marketers, the implication is clear: work to define your brand, align it with the patient experience, and apply the key essentials to cultivate a truly successful patient experience. It's not only the best course of action for your organization; it's the right thing to do for your patients.
---
Case in Point: EvergreenHealth's Art of Caring
In many respects, marketing should be to service what quality management is to quality. Marketing should take the lead in making sure the patient experience aligns with the brand and value proposition of the organization. EvergreenHealth, Seattle, WA, did just that.
With "service" as a key brand promise, the EvergreenHealth team set about to make every patient feel like their only patient. Through the Art of Caring initiative, EvergreenHealth identified its key consumer, aligned brand to mission and vision to truly cultivate that key consumer, and engaged and educated the entire organization around the patient experience by applying the seven key essentials.
One important group EvergreenHealth focused on was providers. Marketers know that patients determine the quality of their clinical care based on their service experience, but physicians and other healthcare providers often struggle with that notion. "You aren't posting anything about my clinical outcomes," they might say. Physicians need to realize that all patients already assume their physician is an "A" in terms of clinical expertise…so their service experience becomes the true satisfier patients use to determine their overall care experience.
When creating this process for translating EvergreenHealth's Art of Caring for providers, a committee of physicians was formed composed of both the most negative and cynical providers and positive and supportive providers. Input was solicited, and physicians provided clues to what tools would help them learn and the most efficient ways to change their behaviors.
EvergreenHealth discovered their physicians would learn and respond better with one-on-one training, which they refer to as "coaching." Coaching consists of five steps:
Analyze the data and determine who needs the most coaching. (EvergreenHealth used scores from the key indicator "recommend this physician to a family member or friend.")
Pull individualized reports and data to share with providers and create a personal communication card with data and scores, areas for improvement, tips, and service breakthrough moments.
Conduct an interview session with the provider.
Complete rounding observations (marketing sits in on at least three patient visits with the provider).
Share feedback in one-on-one sessions and discuss the personal communication card's goals that were set up front.
The results of this detailed work are impressive, with employed providers collectively earning a rating of 94.5 percent in "always recommend." Additionally, EvergreenHealth's providers are the highest in their market in terms of satisfaction scores. To learn more, check out the following resources: Branding Service in Healthcare and Coaching Healthcare Providers to Best Service Experience.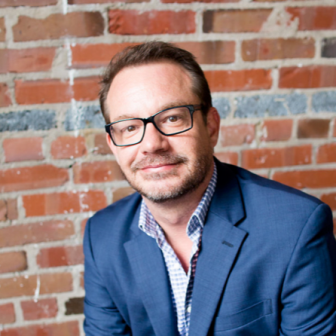 Brian currently serves as the President & CEO of Corrigan Consulting. He leads a team of Executive Vice Presidents, Senior Consultants, and Communications Consultants to support the competitive strategy needs of health systems across the nation.