Healthcare presents all kinds of mysterious—even terrifying—implications to the average American. No one wants to get sick, and when they do, they often feel thrust into a confusing world that presents more options than they can process and more expense than they can afford. A shared lack of education and confidence leaves consumers feeling helpless when they cross into patient-hood. Even a simple primary care visit can create anxiety in the average consumer. That's why upwards of 1 in 3 Americans are putting off necessary medical treatment right now, according to NRC Health's Market Insights survey of US consumers. Healthcare is a door many people are afraid to walk through.
Addressing the Divide
What can healthcare executives do to address this divide? If you review the last decade's worth of healthcare innovations and hospital best practices, you'll find nearly all include technology at their core. Whether in consumer outreach and education or in delivering the patient experience, healthcare organizations have spent billions to better engage consumers and patients alike.
But has it worked? It depends on who you ask. Most consumers struggle to take the first step in seeking care. They have vast, ever-increasing amounts of information at their fingertips thanks to the internet, but information is not knowledge. When asked what emotion is most prevalent in their search for care, consumers cite confusion as number one. A lot of new pathways to care—doors if you will—have been built, but consumers haven't been given the keys to enter the right doors at the right time.
That certainly wasn't the intent. Digital advancements have spawned entirely online runways to care that were constructed to be consumer-facing and patient-friendly. Access to comprehensive Electronic Medical Records (EMRs) was intended to empower consumers to "own" and understand their medical history. Digital innovations like telemedicine and encyclopedic websites were intended to provide more convenient paths to care. Ratings sites with reviews from fellow consumers were intended to inform choice and inspire loyalty. Digital has become its own complicated ecosystem within healthcare.
Human Centered Design at Allina Health
Allina Health, a 12-hospital system based in Minneapolis, was no different in offering digital tools in the name of consumerism. Chris DuFresne, Director of Allina's Digital Information Services, explains that these offerings must be carefully rolled out to avoid creating confusion. "We have no shortage of ways for consumers to interact with us, but without a concerted effort to organize our offerings and provide a logical path for consumers to follow, it can become a source of additional frustration," he says.
In 2017, Allina began applying a human centered design to their offerings—including both digital and physical patient experiences. The thinking was, if Allina started at the top to understand consumer needs, innovations would be more likely to organize around the experience that is needed rather than just focusing on what's available.
Allina has also borrowed from other industries that use technology to adapt to consumer needs. Retailers' aggressive push to offer outside pickup to customers, for example, is a pathway to convenience that makes sense. "It's not always easy to adapt non-healthcare learnings to what we do," DuFresne explains. "But we know there are portions of the physical patient experience that can be carved off and provided online in order to save time and provide a more convenient experience to our patients."
Allina's goal is not to develop technology at the fastest pace possible, but rather to pursue technology that empowers one holistic healthcare experience for patients. If it streamlines an existing process, empowers consumers with knowledge, or saves patients time and money when they come in, Allina is willing to invest in it—all driven by their overarching brand position of human centered design.
Don't Forget the Patient
Zoom out from Allina and you'll find similarities across the country. Like Allina, many health systems are empowering consumers to navigate to the right care experience at the right time. And, prior to any experience at all, partnerships with companies like Apple are allowing consumers to use their devices to record biometrics, upload health records, and manage the health side of healthcare.
The exchange of that information is quickening as health systems adopt open API (application programming interfaces) that allow developers to freely and quickly develop new innovations. Additionally, advancements like Fast Healthcare Interoperability Resources (FHIR) have created a much-needed standard for exchanging healthcare information electronically. In an era of nimble innovation and agile development, who knows what advancements lie around the corner.
The key to the success of any new advancement, though, lies in understanding what patients want. It's true patients are hungry for innovation, but they also want to provide input and feel empowered when they do seek care through new (or existing) avenues. Testing innovations via consumers—not just internal employees—provides patients a voice and also ensures that innovations are not simply deepening the digital divide or creating additional confusion. (See chart below for a checklist to guide care innovation.)
As more hospitals join health systems and systems of care expand, the consumer challenge may not be growth or quality; it may well be how to present the various doors to care. The goal is to reduce fear, increase knowledge, and empower consumers to confidently choose the right door. Achieving that goal will truly brighten healthcare for all.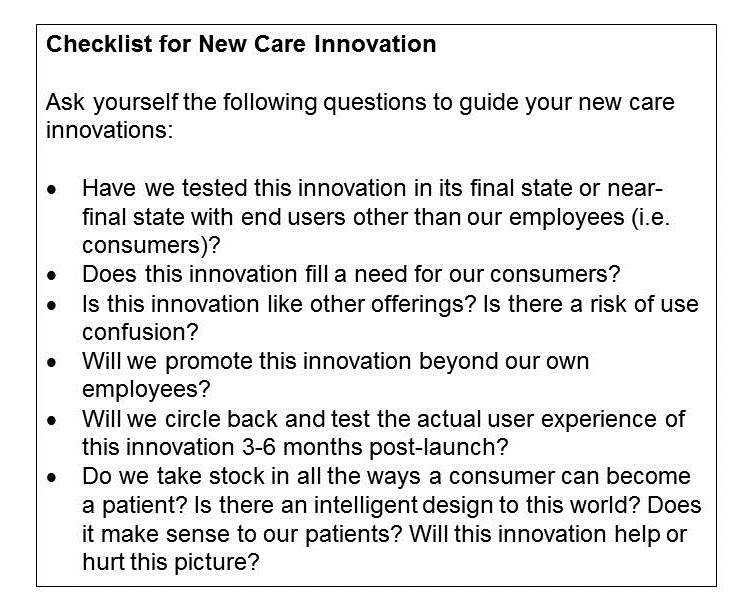 Exclusive benefit for Forum Members: View Ryan Donohue and Chris DuFresne's presentation from 2019 Healthcare Marketing and Physician Strategies Summit: Connecting Virtual and Physical Brands with the Consumer as Your Guide
Learn more! Attend the 25th Healthcare Marketing & Physician Strategies Summit to hear how leading healthcare organizations are bridging the experience divide and more.
Image by Arek Socha from Pixabay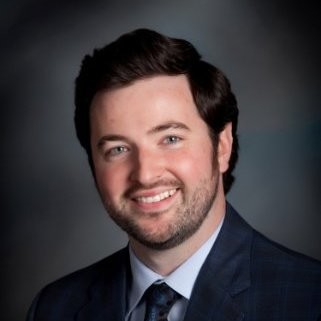 Ryan Donohue is Strategic Advisor for NRC Health. Ryan is considered a thought leader in the realm of healthcare consumerism. He leads the largest healthcare survey of consumers in the US.