Among many other insights you'll glean from Johns Hopkins Medicine Senior Vice President and Chief Marketing & Communications Officer Suzanne Sawyer, HMPS attendees will discover the origin story of the world-renowned Hopkins' COVID-19 tracker—one of many efforts that have led to the system's recognition as one of healthcare's most trusted brands.
Q: Why is the idea of harnessing trust and humanizing a brand an important topic for today's healthcare marketing and communication professionals?
Sawyer: Our role as healthcare communicators is to provide information and resources that people trust. But trust isn't automatically given; it is earned. The COVID-19 pandemic is perhaps the most pronounced example of this in our lifetimes. At Johns Hopkins Medicine, we have found that "humanizing" the information we share increases the receptivity that people have to the content, which is our goal.
Healthcare marketing and communications professionals have always had a central role in sharing information with widely varied audiences, from patients and families, to employees, policy makers, reporters, and others. The COVID-19 pandemic has required timely and lucid communications for situations that are new, and evolving day by day, for those who are worried, scared, skeptical, and in need of credible information and guidance.
To provide that information, it's important to understand what people want and need. This requires active listening to understand their questions and concerns. This informs the ways we communicate, whether it's through web content, social media, earned media, video, infographics, and other methods that meet our audiences where they seek information.
This may be the most important moment in our lifetimes as healthcare marketing and communication professionals. Our patients and the public rely on us to do our jobs well so they can have access to resources they can trust.
Q: Can you share an example of how team members at Johns Hopkins are empowered to make an impact on the communities served?
Sawyer: In early January 2020, we sensed that we were heading into a significant public health event. We monitored the news reports from Wuhan, China. In that same month we posted our very first COVID-related article, "What is Coronavirus?."  To this day, that article still holds the #1 Google ranking in the world.
Some additional examples include:
The Johns Hopkins Medicine Coronavirus Website. The website features more than 200 articles, videos, and posts, much of them in response to questions we saw the public asking. This site has attracted more than 69 million visits, representing 22% of all traffic to Hopkinsmedicine.org.
Media placements. We positioned 66 of our experts who were quoted or referenced in more than 34,000 news stories around the world. A third of these experts are from underrepresented-in-medicine communities.
Internal portal. We launched a COVID-19 Internal Resource Portal for faculty and staff that has had 1 million visits since March 2020.
Patient communications. We developed an email communications program—from scratch—that engaged more than 1 million active adult patients, with an average open rate of 42%.
Kudos website. The public posted more than 1,000 comments and nearly 37,000 pageviews of thanks and encouragement for our front-line staff.
This is My Story. Humanism is a core aspect of our approach to healthcare at Johns Hopkins Medicine. During COVID-19, many of the MICU patients are intubated and cannot speak for themselves, and their families are not permitted to be in the unit. So, a program was developed for hospitalized patients who have difficulty with communicating to the medical team. The program includes a chaplain-initiated telephone call to a loved one who has been identified by the patient as part of their care discussions. The call is recorded, edited for conciseness, and attached to the electronic health record for the entire medical care team to hear. A 2-minute audio file is given to the attending providers so they know something about each patient. It creates a sense that this is a person who has a family who cares about them.
Here's the point: We all bring insights to this experience but creating content that matters to your audience is key.
Q: What can attendees expect to take away from this session and implement within their own organizations?
Sawyer: We will speak about the earliest days of COVID-19 and how it informed our approach to content development based on deep social listening. We will also address:
Humanism as a core component of our approach to communications
How we engaged with our communities during racial and social unrest
Our plans for moving forward
We will also talk about the Johns Hopkins COVID-19 Tracker and how it came to be.
Ultimately, it's important that we listen so we can give people the information they need, and to do it in a respectful way that acknowledges the fact that it's an anxious time. It's our role and responsibility to provide content and information while being mindful that things can change quickly, and that we don't always have all the answers.
This is especially important now given a lack of trust in science and government and skepticism regarding the virus and the vaccines. I believe that we have a role to play, and while people will come to their own conclusions, it's our responsibility, our calling, our charge to provide information transparently so people can make informed decisions for themselves—which leads to greater trust.
Get more actionable insights at HMPS21!
Learn more about this critical topic and meet Suzanne Sawyer at this year's Healthcare Marketing & Physician Strategies Summit (HMPS21). Register here.
This post was developed in partnership with True North Custom, Media Sponsor for HMPS21.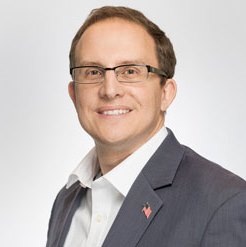 Jason Skinner is director of marketing at University Surgical Associates, one of the largest multi-specialty surgical groups in the southeast. He has 20 years of experience in strategic healthcare marketing and communications, having previously served as CMO at True North Custom and in the corporate marketing department at Encompass Health. Jason also serves on the board for the East Tennessee chapter of the American College of Healthcare Executives.