Among the many new norms for marketers, the "home as headquarters" trend that applies to work, home school, and virtually every other area of life now extends to peer networking and professional development. As a result, virtual events are smashing attendance records across all industries, and more than 80 percent of marketers see themselves moving to more online events in the future.
In healthcare, our customers—patients, providers, and colleagues—are embracing virtual alternatives to traditional touch points. Now is the time for healthcare marketers to lead the way in leveraging digital experiences that guide how we serve our communities, grow our organizations, and build our personal brands.
Along with the obvious advantages of time and cost savings that virtual events afford (as well as not falling victim to the vagaries of business travel), here are four key reasons to embrace virtual events—like this year's Healthcare Marketing & Physician Strategies Summit (HMPS).
Your organization needs forward-thinking strategies to compete in the post-COVID world.
Healthcare organizations are facing significant challenges, from consumer fears to physician burnout. While there are no easy answers, recent studies reflect that executive and clinical leaders ascribe to the former Google CEO's theory that "revenue solves all known problems."
● Around 70 percent of health system executives surveyed in June said their main concern is replacing lost patient volume and revenue, and a similar share said their focus is on marketing, education, and patient outreach to make it happen.
● When clinical leaders were recently asked to rank their top concerns about resuming deferred procedures, the majority (54 percent) cited low patient demand—their #2 concern behind the possibility of an outbreak or second wave. Despite this concern, 30 percent said their organizations have not yet implemented an external communication strategy to address the issue.
With leaders turning to marketing for demand generation and revenue growth strategies, investing in opportunities to gain knowledge and best practices is imperative.
As with in-person conferences, virtual events feature the most compelling ideas and proven solutions to address challenges such as shrinking volume. Whether coming from peers or strategic partners, gleaning insights on the latest issues and trends is essential for staying ahead of the curve and differentiating your brand.
Attending virtual events generates ideas for designing a better consumer experience.
You can only learn so much through research and observation; real discovery takes place when you can see, hear, and click through a digital event for yourself. Getting firsthand experience from a user's perspective will inform your own virtual event strategy, and inform the features and functionality from registration to post-event nurturing.
By participating in digital conferences like HMPS, you can "scroll a mile" on your customer's screen and apply those learnings when developing consumer-focused webinars, employee forums, and other online experiences for your internal and external audiences.
Professional development and personal branding are more important than ever.
It's an unfortunate byproduct of the pandemic: Healthcare organizations are furloughing employees, and non-clinical roles are typically the first impacted. It's also common knowledge that professionals are often taken for granted inside their own organizations.
By building your external reputation through speaking at conferences and networking with peers at industry events, you can sharpen skills while opening doors to new opportunities. Now more than ever, having a colleague who can introduce you to others in their organization is critical to taking control of your career path.
Virtual events are here to stay.
While there is much speculation about the post-COVID future, this much is certain: Large gatherings like conferences will be different than they were prior to the pandemic. In fact, experts at Google and other leading brands predict virtual and physical events will coexist moving forward.
Considering the advantages of virtual events and the ability to script, record, edit, and share content that's often more timely and polished than in-person presentations, this new paradigm of healthcare marketing conference is likely the new normal—and will be for the foreseeable future.
---
Here's Your Chance to Embrace Change…
The 25th Healthcare Marketing & Physician Strategies Summit has gone virtual! The Summit continues a 25-year tradition of identifying rapidly changing healthcare marketing and physician relationship opportunities and challenges and tackling them head-on. It is THE place where actionable strategies and solutions are shared by senior-level marketing, communications, digital, and physician relations executives from healthcare organizations nationwide. Register today!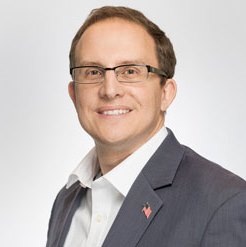 Jason Skinner is director of marketing at University Surgical Associates, one of the largest multi-specialty surgical groups in the southeast. He has 20 years of experience in strategic healthcare marketing and communications, having previously served as CMO at True North Custom and in the corporate marketing department at Encompass Health. Jason also serves on the board for the East Tennessee chapter of the American College of Healthcare Executives.