The idea of returning to pre-COVID conditions is becoming less plausible by the day. Nearly every business model has had to transform seemingly overnight, and hospitals and health systems are center stage in the must-see, real-time drama that will leave permanent fingerprints on the way we promote, deliver, and finance healthcare for years to come.
As the champions of customers across the organization—including patients, physicians, employees, and other constituents—marketers are pivotal to this paradigm shift. According to McKinsey, marketers have a "critical role to play as companies shape their response" to this "generation-defining event that will influence how consumers behave for years to come."
While the future is never crystal clear, there are consistent themes emerging from COVID's impact that can illuminate the path forward.
Here are six strategies marketers can implement now to sustain their organizations in the short term, and to proactively assure consumers of safely returning to a healthcare setting, meet pent-up demand, and drive growth in the period following the pandemic and beyond.
Balance COVID initiatives with lead generation for high-value service lines. Decisions made during the crisis could have long-term financial impact for many healthcare organizations. With supply diverted and demand accruing due to limited access, some hospitals are forced to ration resources and furlough employees as short-term solutions to weathering the storm.
For healthcare marketing and communication leaders, this means it's more critical than ever to focus on initiatives that capture commercial volumes and drive revenue growth. Balancing COVID communications with building a pipeline of candidates for primary care, elective procedures, and other priority services is critical to get ahead of the curve and fill the funnel for specific areas of care.
For highly competitive and low acuity services like primary care and urgent care, promoting access and convenience in your content and campaigns is key along with building a recognizable brand. Standing out from a market crowded with new retail entrants requires messaging that is laser-focused on consumer needs and interests.
For elective procedures and specialty care, promoting alternatives to in-person access points and articulating the value of virtual care will be important for engaging candidates. Many health systems are preparing for a post-COVID-19 surge in demand by offering virtual seminars, conducting pre-op visits via telehealth, and using HRAs or downloadable guides to fill the funnel with qualified leads.
By helping patients access care where appropriate now and secure their place when restrictions are lifted, you'll contribute to both the patient experience and long-term profitability of your organization.
Meet the increasing demand for health information. The demand for online health content has been growing steadily for years as evidenced by the growth in healthcare-related search queries and demand for online health content. A positive by-product of the global pandemic is even greater awareness of healthcare and the steps we can all take to safeguard ourselves and our families. From handwashing to exercising and eating healthy at home to prioritizing mental health, consumers are more engaged in healthcare issues than ever.
To get smarter on health issues and guide decisions, consumers are turning to healthcare providers first as COVID elevates our collective esteem for doctors and hospitals on the front lines. This is illustrated by a recent NRC study that showed hospital and health system websites are among the most trusted sources of information on coronavirus, along with a Pew Research Center survey that found people have mostly positive views of doctors based on their caring for the best interests of patients above all else.
Engage consumers where they work and live (which is often the same place). Like buying books and ordering pizza, seeking a medical diagnosis and treatment plan from a smartphone or computer screen is quickly becoming the norm for many Americans. The trend toward shopping, working, and doing just about everything else from home was well underway prior to the pandemic, and consumers are even more inclined to avoid traffic and crowded waiting rooms after COVID.
Even those who aren't digital natives are rapidly learning to adapt while sheltering in place. For example, experts predict Baby Boomers are more likely to try online grocery delivery, in-home subscription entertainment like Netflix, and other tech-enabled services for the first time while social distancing. Now aware of the ease, convenience, and quality of these tools (not to mention the time and cost savings), consumers across all generational categories are likely to continue trading analog for digital resources after COVID dissipates.
For marketers, this "forced acceleration of the digital transformation agenda" gives new meaning to meeting the consumer where they are and requires creative ways to connect with a largely home-based audience. Jefferson Health CEO Dr. Stephen Klasko says the idea of healthcare with no address has gone from concept to "being critical to the future of the industry." As advocates for customers across the organization, healthcare marketers are at the forefront of this paradigm shift.
Empower colleagues to move across the digital-first curve. During a crisis and recovery period, disciplines like market research, customer analysis, and communication are essential—marketing bridges these departments and functions.
For example, communication and change management are considered the largest challenges to telemedicine. With the adoption curve abbreviated by orders of magnitude, marketers can help reduce friction, support reimbursement, and ensure an excellent patient experience when encounters are extended into the digital environment. From writing new policy updates to conducting webinars that help operationalize telehealth, marketers are central to the design, deployment, and optimization of these and other new systems.
Looking ahead, it will be critical to forecast different scenarios and potential outcomes to manage demand, capacity, and other critical issues following the pandemic. Marketers can get involved in guiding these initiatives by building deeper connections with finance, operations, and clinical leaders and delivering insights that inform staffing levels, budgets, and other strategic decisions.
Rely on your partners. Remember the good old days of wearing only a half dozen hats and working 50 hours a week? COVID has created a 24/7 environment for nearly all healthcare professionals, and marketing and communications teams are rising to the occasion and working tirelessly to keep their colleagues and communities well informed and flatten the curve.
This "always on" dynamic requires ruthless prioritization. Now is the time to invest or double down with partners who add bandwidth and specialize in areas that allow you to focus on the immediate needs for COVID information.
Agency partners with expertise in digital and content strategy—and experience in a remote production environment—can amplify your brand, maintain consistent outreach, and build a pipeline of prospects for priority services when capacity becomes available.
Start now. Every crisis comes to an end, and while the timeline for "getting back to normal" and the conditions that will be left in COVID's wake are uncertain, one thing is clear: This too shall pass.
In fact, many states are already starting to resume elective surgeries, outpatient imaging procedures, and other high-value services. Healthcare marketing leaders who can address their organizations' current challenges while guiding their brands into the future will be better positioned—both personally and professionally—for long-term success.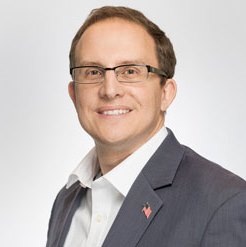 Jason Skinner is director of marketing at University Surgical Associates, one of the largest multi-specialty surgical groups in the southeast. He has 20 years of experience in strategic healthcare marketing and communications, having previously served as CMO at True North Custom and in the corporate marketing department at Encompass Health. Jason also serves on the board for the East Tennessee chapter of the American College of Healthcare Executives.