The intersection of technology and marketing (MarTech) was one of the most talked-about topics at this year's Healthcare Marketing & Physician Strategies Summit (HMPS19). The resonance of this trend reflects the evolution of the healthcare marketing discipline as illustrated by this year's State of Digital Marketing in Healthcare Report, in which one in four marketing leaders surveyed said the move away from marketing communications and toward marketing technology is one of the industry's most pressing issues.
Following are insights from three healthcare marketing leaders about the impact of this shift on all aspects of marketing strategy.
The MarTech Effect on the Modern Healthcare Journey
David Feinberg, Senior Vice President and Chief Marketing and Communications Officer, Mount Sinai Health System (New York, NY): Ideally, technology makes the complexity within our organizations invisible to patients and ultimately helps us deliver a better product. We're in the business of helping people get better and stay healthy, and the more we know about our communities, the more we can advance that mission.
Chris Pace, Senior Director of Digital Marketing, Banner Health (Phoenix, AZ): Consumers are now used to dealing with easy digital experiences, like making restaurant reservations using smartphones. Recently, I wanted sushi in a city I wasn't familiar with, so I went on OpenTable, found the best-rated sushi place, and reserved my table online. In the healthcare space, why is it so difficult for our industry to adapt to these kinds of expectations? We must adapt to the demands of everday consumerism. If we ignore it, then we become irrelevant.
The MarTech Effect on Data Analysis
Feinberg: Technology gives us a clearer picture of our patients and physicians and allows us to approach these relationships from a broader perspective. We want to guide the patient encounter from start to finish, which involves taking a long-term approach rather than a transactional relationship—technology gives us the insights to facilitate that shift.
Tammy Jones, Vice President of Marketing, Novant Health (Charlotte, NC):  We track information to share with stakeholders and that starts to inform the demand for services. It tells us if we are converting a larger percent of this population, which then informs targeting. It's all about the data—all of my problems and successes have been when I've gotten the data wrong or right. There is so much data in health care, so getting it down into understandable pieces is one of the biggest challenges. You unlock so much when you overcome that challenge.
Additionally, having a common language around conversions and data structures is important. You have to understand where the data lives, what it tells you, and how your organization defines it. You have to know you're speaking about your findings accurately and do so in a way that, for example, the finance team understands.
Pace: At the end of the day, none of the work matters if you're not playing the algorithm game. Most healthcare journeys begin on Google, with people trying to find a doctor, searching pain points, or helping mom with the problem that's ailing her. It is usually simple, everyday stuff. The intent of the search is going to determine where they are in their journey. Added context to a simple term means they are shopping, and that's the time you want to connect with those consumers. When research time is over and people know they have a specific problem to solve and the search for a doctor starts, that's when we come in.
The MarTech Effect on Content and Campaign Execution
Jones: You have to ask the right questions and understand what behavior you're trying to change through marketing. Usually, that information lies with the people who are requesting the campaign. If they want volume, how much volume do they want? It's important to ask specific questions around the program that you're marketing. Ask, "What results do you expect to drive?" There is data somewhere, but it may be buried. You can't measure success if you don't understand what you're trying to solve.
Pace: Writing engaging, quality content that people will read is what really matters. For example, GenZ consumers tend to prefer long-form content, and that is the largest demographic group after the Baby Boomers, so we need to prepare to engage with them. Understanding what your intent is behind what you're writing is way more important than knowing the metrics and trying to get clicks. Engaging content always wins.
 The MarTech Effect on Measurement and Optimization
Jones: When I'm reporting on a campaign's results, I show just a bit of the data—top line stuff. Through conversation and questions, people overseeing the campaign will ask more specific questions. Then, I can pull the data to show what they want to see. We have to prove that we can answer those questions. Sometimes, they may only care about how many surgeries they did, so everything else is irrelevant. It took me some time to figure out what people care about. We let them guide the conversation and then show them we have the data.
Pace: I coach my team on solving for the call to action (CTA) at the outset of each campaign. In digital marketing, you have the opportunity to connect to a very specific CTA that aligns with the strategic plan. What do you want to deliver? Some of the services we offer are tied to physician referral relationships, and you can't influence those with traditional digital marketing tactics, so you have to move up the funnel and focus on what consumers make choices on: finding doctors, scheduling appointments, and so forth. It is a matter of getting people in front of your product, and user experience has a lot to do with that.
The MarTech Effect on Patient Experience
Feinberg: I hope healthcare marketers are seeing how technology leaders, such as Google, are implementing changes and creating opportunities. As healthcare marketing leaders, we should ask ourselves, "How do we take these tools and become part of the conversation so that we can improve the services we provide to patients?"
Pace: You have to understand what the consumer's needs are to be able to fulfill the promise you're preaching on any channel. If you're selling this amazing experience, and consumers become patients and there is no connected personalization throughout the experience, for example, they have to fill out multiple forms, the front desk doesn't know why they're there, or the doctor doesn't know their name—then you risk losing the customer.
---
Learn more about how healthcare leaders are integrating MarTech into their strategies! Order the 2019 Healthcare Marketing & Physician Strategies Summit Playback.
This post was developed in partnership with True North Custom, the official content partner for the 2019 Healthcare Marketing & Physician Strategies Summit.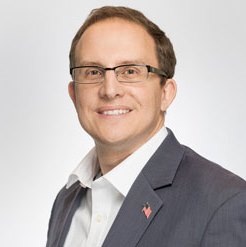 Jason Skinner is director of marketing at University Surgical Associates, one of the largest multi-specialty surgical groups in the southeast. He has 20 years of experience in strategic healthcare marketing and communications, having previously served as CMO at True North Custom and in the corporate marketing department at Encompass Health. Jason also serves on the board for the East Tennessee chapter of the American College of Healthcare Executives.