It's often said that the only constant in healthcare is change. This maxim is especially true of the marketing and communications function, which is experiencing a continental drift in disposition, capabilities, and cross-functional connection—all in support of advancing the discipline from order-taking creative to data-driven champion of revenue growth and innovation.
Conversations with top marketers from several leading healthcare brands reveal just how far the discipline has come over the past few decades and where it's going. With experience ranging from consumer packaged goods and pharmaceuticals to global consulting firms, the following executives embody the evolution of healthcare and, after spending significant time in healthcare organizations, know exactly what it takes to compete and win in today's increasingly complex environment:
These experts have more than 130 years of collective experience leading strategy and marketing teams. To guide their healthcare organizations toward brand and revenue growth, they're combining that knowledge with insights gleaned while working with the likes of Motorola, Nike, McDonald's, Apple, Starbucks, and Procter and Gamble. Following are their thoughts on five required traits for the modern marketing strategist.
Bridge Builder
 Previously, marketing was often an island without visibility into how (or if) campaigns and creative made an impact on the organization's goals. Now (and increasingly) success is contingent on connection with other departments. 
Sullivan: Today's marketing executives need to adopt a market-led or strategic marketing approach, which recognizes that an organization's strategy and marketing are inextricably linked and essential to successful growth. This requires us to build strong connections with our strategy and planning teams as well as with leaders across the enterprise to drive change. We can't operate in silos anymore. Rather, it's our job to pull people together and ask, "How are we going to do things differently?"
Wilson-Tynan: For an organization like ours in the midst of a branding transition, it's critical for the marketing team to have a strong relationship with planning and business development as a strategic partner. At Atrium Health, the Corporate Communications, Marketing & Outreach department helps those of us on the strategy team understand where to deploy capabilities based on the appetite for services in specific geographies and how to creatively tell the story of our strategy to secure buy-in from teammates and leaders across our system. The department has also been an instrumental partner for our growth strategy with their national media and thought leader strategy, as well as digital marketing campaigns. Together, strategy and marketing executives will continue to be "trusted advisors to leadership" and integral forces for moving the organization forward in an innovative way.
Johnson: Increasingly, marketing is all about data. Marketing leaders need to learn how to interpret it, how to apply it, and how to run experiments. Data doesn't just tell you how campaigns performed; it tells you whom you should target and what your audience wants. To get the data required for success, we have to be the ones to break down silos with IT and clinical teams, which requires sharing data in ways that build consensus.
Hill: Today's marketing executive has to be able to build strong relationships with administration and clinical leadership. Also, find a mentor within or outside of the organization to foster personal and professional growth, and don't limit yourself to industry contacts. Networking outside of healthcare will help you build your personal brand and stay abreast of changes in our space.
Champion of the Customer Experience
 In the past, the belief that most patients "would have come anyway" meant marketing was focused on physicians and other stakeholders. Now, customers (patients) are at the core of marketing.
Hill: To be a true champion of the customer…a tireless advocate and trusted advisor…marketers need to know more about the customers they serve. Put yourself in your customers' shoes and speak their language, not yours.
McNorton: Market leaders today are centered on the business of healthcare, not solely the marketing strategy, to truly understand how marketing operates in the totality of the business. In addition to understanding business and operations, healthcare marketing executives need strong digital knowledge—but more importantly, we must understand consumers and consumerism. Consumers expect us to make their lives easier with technology, and people look to us as being digital change agents within our organizations. We have inherited the responsibility to be digital advocates for our system because consumers are demanding it.
Sullivan: With the entry of a growing number of nontraditional competitors, healthcare marketers are facing new pressures related to demand. It's no longer a supply game, so marketing executives need to think differently and be consumer-centric. We face new competition with new rules of the game, and this transformation is necessary to move our organizations forward and be successful in the future.
Szablowski: We need to think about consumers the way Amazon does. Amazon realized early on that the customers they wanted were already encountering great customer experiences with companies like Apple, Uber, Airbnb, Warby Parker, and others. Healthcare marketers should be comparing themselves with these organizations and asking themselves, how do we measure up? The contemporary healthcare marketer must move from being obsessed with the selling process to being obsessed with the buying process, and from focusing on incidents or procedures to focusing on the relationship and lifetime purchase value. By truly focusing on the customer—an external lens, rather than an operational, internal lens—and putting the consumer in the center of your business strategy, all organizational strategies will ultimately be in service of the consumer.
Strategic Storyteller
 Historically, marketers often used jargon and buzzwords that left audiences confused about the message or value being delivered. Know the audience and use clear, simple language to convey ideas based on sound data.
Wilson-Tynan: Considering the way consumers purchase services today, you have to be a good storyteller—I can't stress that enough. Creating an emotional connection to the brand and the product is essential, and to do that well, you have to be able to tell a good story around why people should select your organization. Marketing and communications professionals are skilled at crafting the narrative around why we're doing what we're doing. While strategists often focus on data analysis as an essential skill moving forward, it's important to partner with corporate communications on the storytelling piece. Storytelling is an underused skill that will differentiate marketing and strategy executives in the future.
McNorton: Knowing the audience and telling the right story is also important internally. Marketers have to speak with the C-suite in their language; they have to understand the finances of the organization and talk in terms of the growth they're enabling for the organization and the revenue being generated. One of the smartest people I ever worked for often asked, "Was everything marketing did last year a perfect success—and if not, how do you know which efforts were successful and what to improve?" We have to keep diving into that question and investing our resources—time, money, people—in the areas that enable growth.
Lifelong Learner
 A baseline knowledge of the tactics involved to keep the brand top of mind is not sufficient for success. Continuous improvement is critical to make smart decisions and drive profitable growth across the organization.
Sullivan: As a marketer, you have to own your career development plan and ask yourself, "How can I gain knowledge beyond my own organization?" You have to be very deliberate about joining industry groups, attending conferences, and accessing other resources as it's easy to get myopic within your own organization. Pick your head up and look at what people in other companies, and other industries, are doing.
Johnson: I spend time learning everyday. I listen to podcasts on my commute. I often read two books at a time. I present at conferences rather than just attending so I have an excuse to research a topic in depth. I try new technologies at home so I can know the ins and outs of them at work. I bought an Amazon Echo so I can research how to use it with providers. But I think the best-kept secret to acquiring knowledge is other people. I participate in tweet chats. I keep in touch with colleagues I meet at conferences. No one has all the answers in healthcare, but most everyone has an answer to part of it.
McNorton: Try to read what the C-suite is reading; get out of your community and attend state and local association meetings or an annual conference. If you aren't purposefully being exposed to new ideas, you're falling behind and becoming insulated, and that can be career-limiting. The reality is that if you don't get out, you're doing yourself and your organization a disservice.
Wilson-Tynan: While being involved in professional organizations is absolutely critical as it develops your network and keeps you relevant around what's happening within the industry, one of the biggest areas for gaining knowledge is analogous learning. We need to be looking at other industries that have done strategy well. Healthcare is becoming more retail-focused, so look at retail companies that have been able to bring products to market quickly. Look at what the airline industry has done in the area of customer service—and particularly at Delta's efforts to make customer relationships "sticky."
Change Agent
 Recognizing the need for transformation in healthcare, marketing has become an instrumental voice within the organization at the forefront of innovation and growth.
 Johnson: Throw out the old marketing playbook. It taught us to shortcut the real opportunities to create valuable relationships. It taught that brand awareness came from interrupting people's lives. It taught us to focus too much on reach and impressions. It taught us to spend too much time thinking advertising is the answer for everything and not enough focusing on patient engagement, brand experiences, and building trust. It taught us to spend time convincing people that they want what we offer, rather than listening to them and offering what they want. Throw that book out and start over. Marketing doesn't look like that anymore.
Szablowski: It's time to stop "doing" marketing and start leading it by driving better experiences to retain and attract consumers. Marketers must push for better data, analytics, consumer insights, and actionable intelligence that can be used to improve performance. They must drive the need to simplify processes so they are easy for both the consumer and the caregiver and show that there is an absolute positive economic impact to doing this that I call "The Economics of Delight." And they must drive the need to create a more concise focus on metrics, organizational growth strategies, customer acquisition, return on marketing investment, and brand value—all of which is achieved by maintaining a differentiated leadership position in the markets they serve.
Wilson-Tynan: At the pace healthcare is moving, strategists and marketers can't do the traditional business case development and get everything perfect. We have to test and prototype with just enough information to get something to market; being comfortable taking risks and moving things quickly from concept to product will be key. That's why design thinking is a critical skill for modern marketing strategists—it helps move an idea from concept to execution in a very efficient and effective manner.
Sullivan: Given all the change we're facing in the healthcare environment, we're charged with embracing change and engaging stakeholders across the organization. Marketing is being asked to lead the organization's transformation around becoming more consumer-centric, to show how strategy translates into brand experience, and to drive home overall strategies for the organization. Now more than ever, the healthcare marketing strategist is in a great position to lead the change and help transform our organizations.
McNorton: It seems like healthcare marketing is finally arriving. It's been a long journey to what I would call true marketing that is strategically focused and not constantly responding to stakeholder requests. We've moved away from waiting for someone to say, "I need X" to asking ourselves what value are we adding, what problem are we trying to solve, and how do we show whether or not this was the most effective way to invest resources. Although moving away from being tactical and reactive to being strategic sounds easy to accomplish, it's not. When we have been relegated to tactics for decades, it takes a significant change in the way we approach our jobs to reframe our roles as healthcare marketing executives.
Hill: It comes down to this: Marketing executives: Know thyself! Think deeply about what you want. Know what value you are bringing to the organization and assert yourself into the strategic conversations where your capabilities and expertise can make an impact.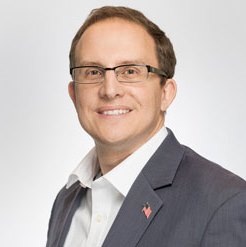 Jason Skinner is director of marketing at University Surgical Associates, one of the largest multi-specialty surgical groups in the southeast. He has 20 years of experience in strategic healthcare marketing and communications, having previously served as CMO at True North Custom and in the corporate marketing department at Encompass Health. Jason also serves on the board for the East Tennessee chapter of the American College of Healthcare Executives.